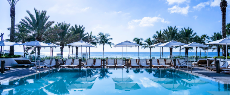 ​3x2 Week Days
Up to 15% off at Eden Roc Miami Beach
Learn More
PROMOTION DETAILS: Guests arriving on Sunday, Monday and Tuesday and staying a minimum of 3 nights will receive one night free. Reservations with overlapping dates can qualify up to 15% off.

BOOKING WINDOW: 11Feb'20 – 08Mar'20

TRAVEL WINDOW: 08Mar'20 – 26Mar'20

APPLICABLE CATEGORIES: All categories.

MINIMUM STAY: 3 nights.

BLACK OUT DATES: None.

COMBINABLE: None.

Terms & Conditions: Reservations booked under this promotion are 100% NON REFUNDABLE, no matter the reason for canceling; money will not be refunded. Payment: Partners on pre-payment will have 24 hours to send CC or wire transfer. Partners on credit will be billed as normally done; however, if reservation is canceled invoice amount will be due in full, no exceptions. Name changes or date changes are not accepted. Applicable to All Markets. Applicable for hotel only & Package reservations. Applies to new reservations only, existing reservations do not qualify. Reservation MUST arrive/check-in on Sunday, Monday or Tuesday to receive the free night. Reservations staying longer than 3 nights can receive up to 15% off. Promotion is subject to change without prior notice. Promotion is only valid for one free night as it is not cumulative. We reserve the right to discontinue this promotion at any time. All previous sent close-outs and inventory changes apply. Applicable to group bookings, without a group contract. Not applicable to reservations with employee rate, travel agent rate, FAMS, complimentary or compensatory stays. Promotion code MUST be reported at time of booking for reservation to be entered correctly in our system – Promotion will not be honored if promotion code is not reported.