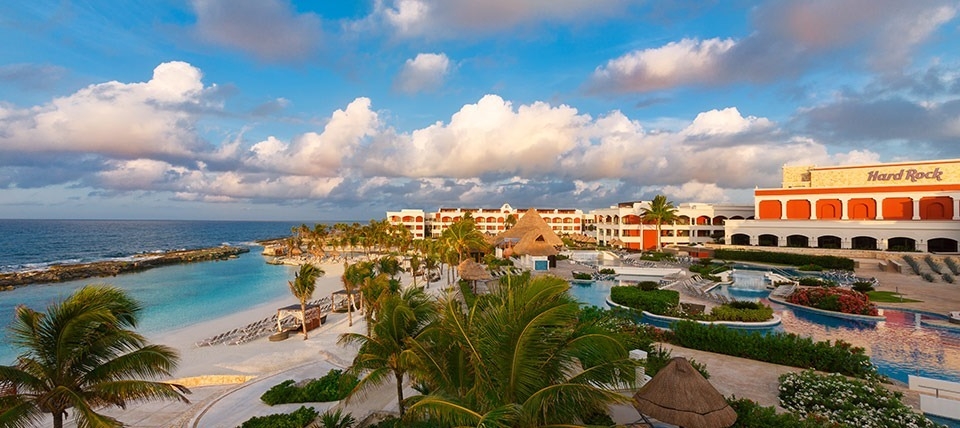 The all‑inclusive Hard Rock Hotels of Mexico and the Dominican Republic are guaranteed to rock your world. With service that knows no limits, we took all the awesome of Rock & Roll and made it a vacation that has to be experienced to be believed. Live it up in stylish digs decked out with fully stocked liquor dispensers, hydro spa tubs, and wall-to-wall awesome. Sip limitless luxury from the top shelf, wine and dine like a boss, and feast on decadent views from Riviera Nayarit to Punta Cana.
SITE INSPECTION REQUEST FORM
To fill out the Site Inspection Request form, please click here to fill out the online form. Once submitted, we will contact you to confirm your Site Inspection request.
Properties
It's a rocking concert and a backstage pass after the show. It's hitting the links and the shops. It's catching some ocean waves, and then wading to the swim-up bar. All-Inclusive means everything from the in-room top-shelf drinks to the nightly entertainment and kids clubs are included in your stay.
Agent Programs
Here at the all-inclusive Hard Rock Hotels we ensure our dedicated travel agents have the tailored support, exclusive rates, and leading commission programs they need to help them stay at the top of their industry.
Groups & Meetings
With our beautiful beachside locations, world-class dining and top-shelf cocktails, business at the all-inclusive Hard Rock Hotels feels more like an indulgence than work. Learn more about how our properties can take your meetings to a whole new level of luxury and sophistication.
Weddings
Begin your happily ever after in the heart of paradise. Whether you're searching for timeless elegance or something a little more edgy, our ultra-luxurious resorts have all the world class amenities you need to make your wedding dreams come true.

Plan Now, Rock Later
Book now and enjoy rates starting at $855.00 in 2020 and $987.00 in 2021 for a 3-night stay for 2 adults and 2 children, so you can rock at one of the all-inclusive Hard Rock Hotels as soon as you're ready. We are here for you, and committed to make your return as worry-free and relaxing as possible. We can't wait to welcome you back and are counting down the days.
*Restrictions and blackout dates apply.
Learn More

LIMITLESS ALL-INCLUSIVE
Introducing the All-New Limitless All-Inclusive
Learn More