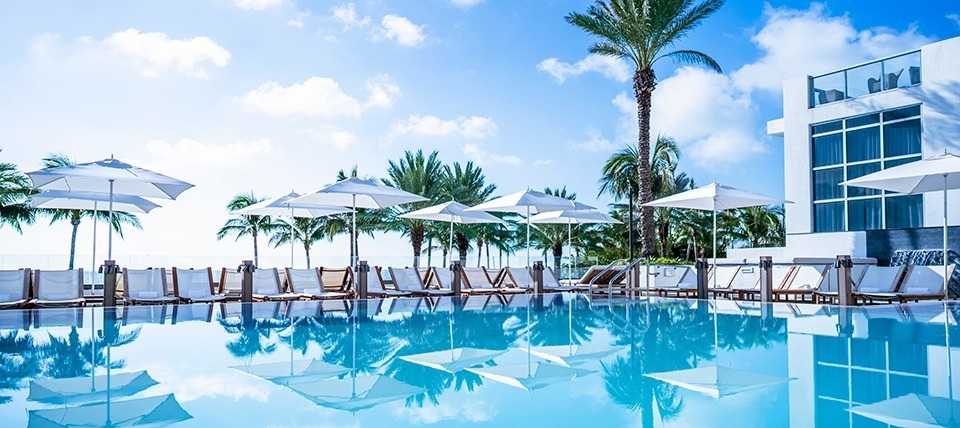 At once timeless and groundbreaking, Eden Roc brings all things alluring to Miami Beach – yet never without a dash of the unexpected. With its Collins Avenue location, this resort flawlessly blends tropical Miami style with decades of timeless glamour, offering 415 spacious hotel guest rooms and suites, three distinctive pools, and the iconic Lobby Bar. The hotel also offers over 70,000 square feet of varied indoor and outdoor meeting and event space. The Spa boasts a bevy of indulgent, luxurious treatments and signature services in a perfect harmony of style, service and serenity. Tempting all to come out and play, the revived Eden Roc ethos is ultra-now, pushing the envelope.
SITE INSPECTION REQUEST FORM
To fill out the Site Inspection Request form, please click here to fill out the online form. Once submitted, we will contact you to confirm your Site Inspection request.
Property
A vibrant city transitions to a beachside oasis. Lush interior spaces designed for pampering and relaxation offer oversized balconies peering out at the sea and the city. Whether you're looking for a home base from which to explore Miami Beach or a serene oceanfront backdrop to unwind and escape, at Eden Roc Miami Beach your time belongs to you.
Agent Programs
At Eden Roc Miami Beach we ensure our dedicated travel agents have the tailored support, exclusive rates, and leading commission programs they need to help them stay at the top of their industry.
Groups & Meetings
Our professional Meetings and Events team at Eden Roc ensures your corporate meeting or event runs smoothly and help create memorable experiences. Flexible ballrooms make perfect spaces for large or intimate conferences and receptions, right in the heart of Miami Beach.
Weddings
With a diverse selection of indoor and outdoor venues to choose from, ranging from iconic to contemporary, and a staff of professional planners and chefs behind-the-scenes, you can count on a personalized wedding that none of your guests will forget, a beautiful start to the rest of your life.

STAY & SAVE
Receive 40% off all room categories.
Learn More
WINTER SALE
Receive up to 58% Off at Eden Roc Miami Beach
Learn More