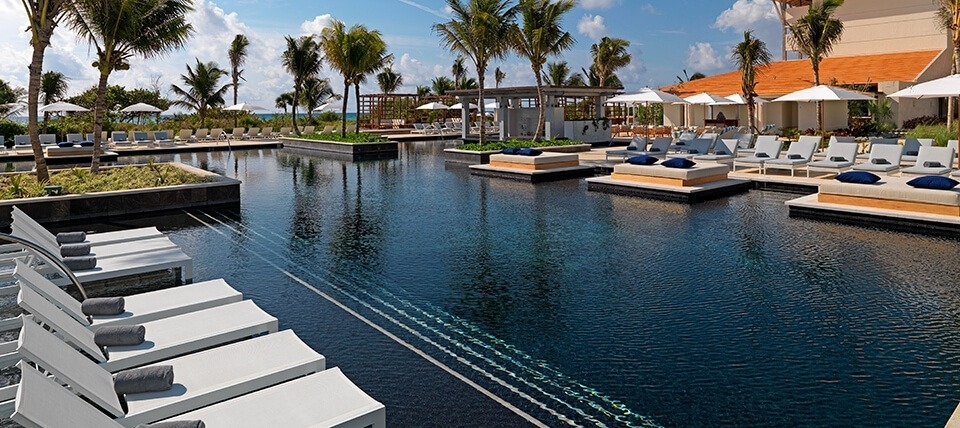 At UNICO 20°87° you'll meet modern Mexico face-to-face. Our flexible programming and no-itinerary-necessary attitude means that, here, the only condition is that you revel in the moment. Equal parts international outpost and local getaway, UNICO 20°87° is about immersing yourself fully, whether you're out to explore the region's lesser known alcoves or indulge in the culturally-inspired on-site activities.
SITE INSPECTION REQUEST FORM
To fill out the Site Inspection Request form, please click here to fill out the online form. Once submitted, we will contact you to confirm your Site Inspection request.
Property
Set on the stunning white beaches of Riviera Maya, UNICO 20°87° immerses guests in the culture of the region, from the locally-inspired cocktails and cuisines to the art in the rooms. Three unique pools and holistic spa and wellness center drive home a sense of relaxed luxury, while exciting pop-up events insert a touch of spontaneity into the experience.
Agent Programs
At UNICO 20°87° we ensure our dedicated travel agents have the tailored support, exclusive rates, and leading commission programs they need to help them stay at the top of their industry.
Groups & Meetings
Create a meeting experience that's one-of-a-kind, with a variety of spaces—from indoor breakouts, to outdoor lawns—able to accommodate any sort of meeting or event. All arrangements are completed with aid of a dedicated team to help craft specially designed food menus, custom entertainment, and even a curated cocktail program.
Weddings
More than just a beautiful destination, an UNICO 20°87° wedding is a one-of-a-kind experience filled with personalized details and touches directly inspired by the warmth of the surrounding region.

Booking in Advance
Book Early & Save up to 30% at UNICO 20˚87˚
Learn More

Superbia Summer
CELEBRATING CREATIVE WOMEN – FLAVORS OF THE SUMMER
This July 11th through August 21st, embrace the local at UNICO 20°87°'s Summer Superbia. Savor craft cocktails, indulge in delicious bites, discover local artists, and attend exclusive poolside events. Join us as we celebrate outstanding women across the hospitality and entertainment industries while showcasing their amazing talents all summer long.
Learn More