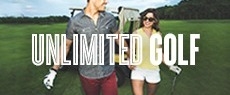 Unlimited Golf
From avid players to those just looking to have some fun on the course, we can provide our guests with a true golf experience with Unlimited Golf.
Learn More
Start practicing that swing. Unlimited golf is included in your stay at the all-inclusive Hard Rock Hotels of Mexico and the Dominican Republic, which means no matter how often you hit the green, this round's on us. While you're enjoying unlimited rounds of golf you can still take advantage of our Limitless Resort Credit offer for other added values such as select tours, spa, beauty salon services and much more.
*20% service fee applies. Limitless Golf not included at Hard Rock Hotel Vallarta.