The all‑inclusive Hard Rock Hotels of Mexico and the Dominican Republic are guaranteed to rock your world. With service that knows no limits, we took all the awesome of Rock & Roll and made it a vacation that has to be experienced to be believed. Live it up in stylish digs decked out with hydro spa tubs and wall-to-wall awesome. Sip limitless luxury from the top shelf, wine and dine like a boss, and feast on decadent views from Riviera Nayarit to Punta Cana.
SITE INSPECTION REQUEST FORM
To fill out the Site Inspection Request form, please click here to fill out the online form. Once submitted, we will contact you to confirm your Site Inspection request.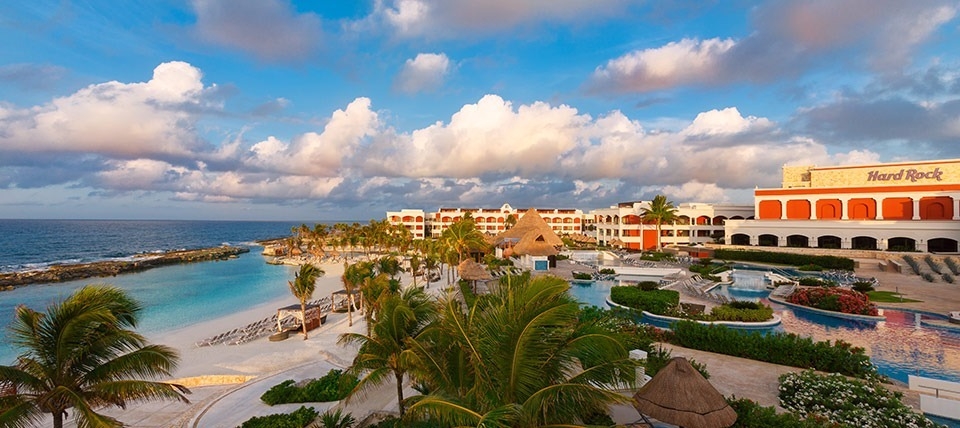 Cancun
Step inside the all-inclusive Hard Rock Hotel Cancun and enter a playground of non-stop fun, breathtaking views, and thrilling entertainment. It's all here, and always all included.
Punta Cana
Thrilling action in the biggest casino around, exhilarating nightlife, tantalizing culinary options, state-of-the-art meeting facilities, and rooms worth tweeting about, all infused with our legendary rock and roll vibe? Delivered.
Riviera Maya
This is the 1,264-room Hard Rock Hotel Riviera Maya. And this is where luxury meets satisfaction on a stage of stunning tropical views, a private white sand beach, and exclusive saltwater snorkeling areas.
Vallarta
Deep in the heart of Riviera Nayarit, Mexico lies the all-inclusive Hard Rock Hotel Vallarta. With the legendary azure waters of Bahia de Banderas and all the best of paradise, this is more than a vacation. This is Hard Rock.
Los Cabos
Located on the shores of Cabo San Lucas, the 639-room Hard Rock Hotel Los Cabos offers visitors unmatched guest services, luxurious all-inclusive amenities, and diverse offerings to guests of all ages.